Patio season is upon us and it's time to dust off all your outdoor furniture and get ready to do some grilling. But if you don't have a naturally shady patio area, then you'll want to make sure to place a good umbrella to keep everyone cool and dry while you're enjoying the great outdoors.
When it comes to buying a patio umbrella, you can find lots of great products online, but also lots of junk. In this article, we'll help you examine all the best patio umbrellas on the market so you'll know exactly what your options are and which one is best for you.
Quick Links Within This Guide
---
How to Pick the Right Umbrella
How to Pick the Right Umbrella
Material
Size
Shape
Action
Quality
Transparency
Waterproofing
Price
Depending on how you answer these questions, you'll be able to find an umbrella that will work great for your patio. Let's take a look at 10 of the top-rated patio umbrellas.
Amazon's Top-Rated Large Umbrellas
Overall score: 4.4/5
How to Pick the Right Umbrella
Size dimensions: 96″ tall with a 130″ diameter square shaped umbrella
Umbrella's Upsides
Easy lever design makes it so even a child can easily open and adjust the umbrella
Six different height options depending on what you need
Sturdy design with strong ribs holding the umbrella in place
Umbrella easily rotates all the way around its the pivot point for easy manipulation as the sun moves
Umbrella's Downsides
Setup requires weights for the base which are sold separately
11 feet is quite big for this kind of product. Carefully measure your space to ensure you are not disappointed upon delivery
Overall score: 4.3/5
Size dimensions: 100″ tall with 15 feet diameter long oval-shaped umbrella
Umbrella's Upsides
Size and shape are perfect for covering a long dining or picnic table on your patio
Comes with its own base but can also be used with a table base
Vinyl material is strong, colorfast, and blocks out all UV radiation in addition to rain
Strong coated steel ribs and pole
Easy to use crank action makes putting up and down very easy
Umbrella's Downsides
Make sure to consider the shape of the umbrella – it's a long and skinny oval that might not work well for all applications
The rib system under the umbrella is a bit complex and prone to wear down quicker than you might expect
Overall score: 4.2 out of 5
Size dimensions: 120 to 150″ tall with a 132″ diameter round umbrella
Umbrella's Upsides
The double top design is great for ventilation underneath your umbrella
Strong aluminum bones and ribs
Excellent lever action
Umbrella's Downsides
Weights for base not included in the package but definitely needed
Offset design can cause problems if the umbrella is in a high-traffic area
Double top design can cause problems in rain
Overall score: 4.1/5
Size dimensions: 108″ tall with a 54″ diameter round umbrella
Umbrella's Upsides
Great bang for your buck
Action, construction, and shade material are all on-par with much more expensive options
Compact construction makes for easy shipping and winter storage
Umbrella's Downsides
Rib construction tends to wear out fabric quicker than you'd expect
Tilt hinge tends to wear out pretty quickly, even before other parts of the umbrella
No height options available means you're stuck with the factory positioning of this shade
Overall score: 4.3/5
Size dimensions: 96″ tall with an 8' diameter round umbrella
Umbrella's Upsides
Fun tiki design is perfect for a theme party, or for certain types of décor
Super lightweight and easy to move
Fits into most umbrella slots in picnic or patio tables
Umbrella's Downsides
Grass-like material does not completely block out the sun and is not great against rain
Grass material makes noise when the wind blows through it – not ideal for quiet conversations
Push-up action is not very easy to use and can sometimes pinch fingers
Ribs are a bit flimsy and will not hold up well over time
Cannot stand on its own – no base system is included so this must be added to an existing base or table
Overall score: 4.5/5
Size dimensions: 90″ tall with a 36″ diameter round umbrella
Umbrella's Upsides
Sturdy design with strong ribs
Hand crank action worked well right out of the box
Blocks out UV radiation and rain

1.5″ diameter metal pole provides superior strength support compared to the standard pole
Umbrella's Downsides
Does not come with its own base
No tilt angle options
Very small – especially with lack of tilt, it is difficult to get a good shady area out of this umbrella
Umbrella material is a bit thinner than others and in some conditions did not seem to provide total shade
Who should consider buying a patio umbrella?
A patio umbrella is a quick and easy way to bring the comfort of the indoors outside. An umbrella can transform your patio into a pleasant place to eat, gather with friends, or simply enjoy the outdoors.
Patio umbrellas provide more than just décor – some also include UV protection, helping block some of the sun's rays and preventing skin damage.
A patio umbrella is ideal for anyone with an uncovered outdoor space, but it's important to consider your unique needs before selecting a particular kind.
What are some important considerations when selecting a patio umbrella?
Choosing the right patio umbrella can be difficult, but choosing the incorrect one can cause frustration and disappointment. Here are a few important considerations when selecting a patio umbrella.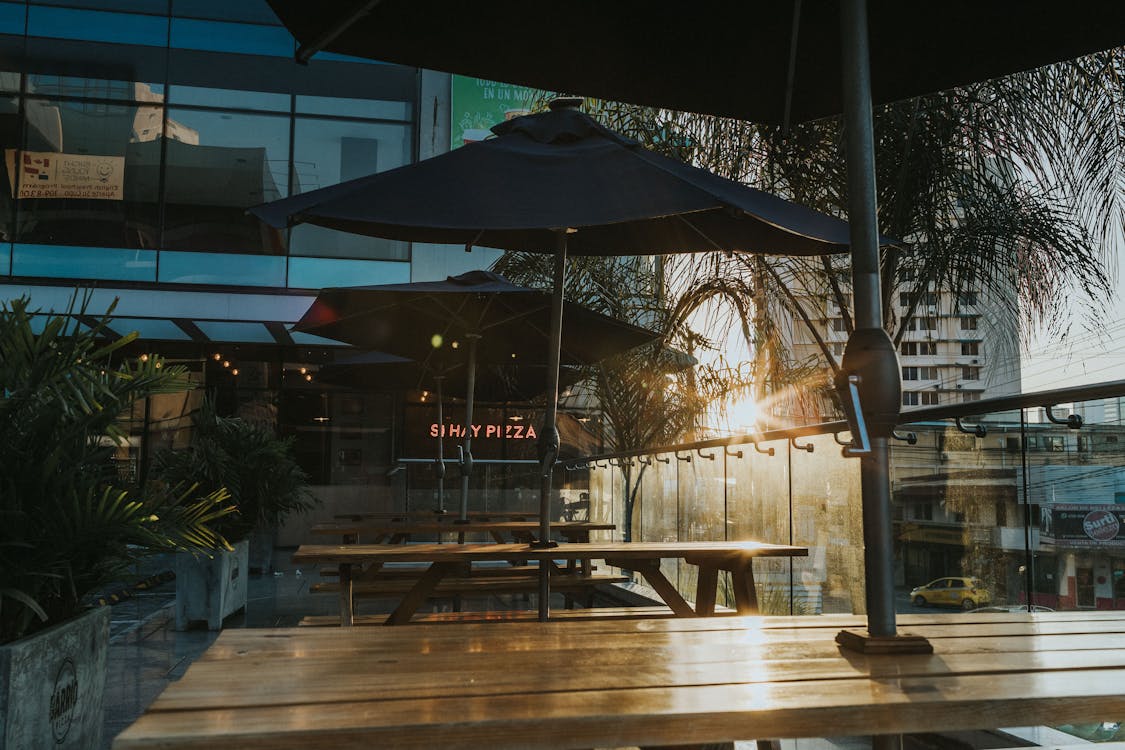 Size
Consider the size of both the base and the umbrella. You'll want to ensure the entire unit can fit in your area as expected. Cantilevered units can be especially tricky to measure properly, so consider the length of the arm and its range of motion.
Weather
You'll need to select an umbrella that can stand up to the weather in your area. Keep in mind that in this business, even sunny days count as "weather". The sun can cause fading or other damage to some types of umbrella fabrics or warping in some types of bases. If this is important to you, it should be part of your decision.
Location
Where will the umbrella be placed?
For spaces where you'd prefer not to have a central pole, a cantilevered umbrella maybe your best option.
For spaces with tables, grills, or other large objects, be sure to factor the size of any base into your selection. Consider if the base or umbrella would block any pathways or access to any other patio furniture.
Price
While staying within your budget is most important, umbrellas tend to be a "you get what you pay for" sort of item. Aim to purchase the umbrella closest to the top of your price range, as in the long run it will save you time, money, and frustration. Cheap patio umbrellas may seem like a deal, but could cost more in the long run.
Material
Outdoor patio umbrellas are typically made with one of three kinds of materials
Olefin: Olefin is an environmentally friendly material that provides high UV protection. It's durable and stain-resistant and can withstand bleach and chlorine cleaning.
Polyester: A great choice for outdoor umbrellas since it is relatively cheap, light and easy to work with. It also dries quickly and is usually coated to protect from UV rays, slowing down color fading.
Acrylic: This is the gold standard material for outdoor textiles. It's resistant to different elements and can hold its color for many years. For this reason, it is usually the most expensive option.
Open/Close Ability
Not all patio umbrellas can close. If it's important to you that the umbrella close for ease of use, be sure to review the features of your selection before making your purchase. For umbrellas that can close, follow these steps to help prevent damage to your purchase.
Confirm the umbrella is safely anchored in its base. Umbrella motion while opening or closing can cause damage to the umbrella or cause you to be injured, If your umbrella doesn't have a crank, gently pull on the umbrella rods to start the opening process, and continue lifting slowly.
If your umbrella has a crank, only use the crank. Don't press or push on the umbrella itself, as this can damage the material.
Continue pushing or cranking until the umbrella is locked and fully extended.
Bringing it all together
When you're looking for a patio umbrella, take the time to get to know all your options before making any decision. As you see here, there are a wide range of options from the very pricey to the very austere.
Depending on the specific situation with your patio, any one of these umbrellas might be right for you. Start by settling on an umbrella shape that you'd like to see, and then looking specifically at the options that will work for what you want. However, you approach this purchase, make sure you find an umbrella that will let you enjoy summer fun for years to come.